My Hitron CDA-35 cable modem (available only through ISPs; purchased from Rogers) reports a WAN and gateway IP addresses that bear no resemblance to my public IP.
The modem's IP addresses are in the public address space; why would the ISP give me one IP to connect to them and then another to connect to the public internet?
Out of curiousity I looked up the modem's IP and it is listed as belonging to DoD Network Information Center in Columbus, Ohio.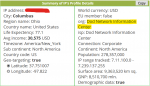 I haven't done much more research on the matter but the records appear to be current as of 2020-12-1, at least on the sites I used. I suppose it could be that the DoD sold a bunch of IP addresses and the records were not updated.
Last edited: