My nephew got a MAR-refurbished T480s which came factory-reset and already logged into Windows.
While I was setting it up I absent-mindedly performed the following actions in User Managment console in this order:
1. Added a password to the default Administrator account. Hit
Apply
2. Renamed the default user. Hit
Apply
.
3. Added the default user to the Users group and removed it from the Administrators group. Hit
Apply.
4. Recoiled in horror when I realized I had done all this before enabling the Administrator account.
I was hence unable to log into the Administrator account from the sign-in screen, or to run any applications with elevated privileges.
When I tried to run anything as an admin by right-clicking and selecting
Run as administrator
I was greeted with this unusual window: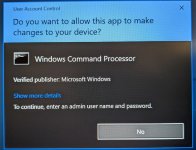 So I used Shift+Restart to enter the command prompt and tried
Code:
net user Administrator /active:yes
.
It said
operation completed successfully
so with renewed hope I backed out, restarted the machine and was greeted with this screen from Lenovo's Pre-boot environment: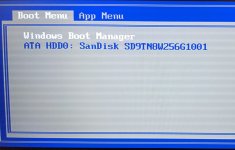 It seems that I somehow managed to cook the Windows Boot loader.
I booted off a USB-C M.2 NVMe drive that happened to have a Windows installation on it and now I'm here confessing my idiocy.
At this frustration level I'll probably end up nuking the onboard drive and installing a fresh copy of 21H1.
That said, I am curious to know if there's any way to recover the host Windows installation from this predicament.
I'll check back here before I reformat and if anyone has posted a suggestion I'll try it out.
In any case, I believe a moral of this story is
pay f@#king attention when you're f#$king with user accounts for f$#k's sake
.
Last edited: