MUCH THANKS in advance for reading this long mess of a post.
tl;dr:
I F'ed up. Got UN-F'ed. Error happened. Error went away. Discovered something new. Confused as usual. Questions.
-----
I goofed again. So it's another pain-in-the-ass, frustrating, confusing night. I have two "users" on my system. One is for "normal use" and one has "Firefox v56 w/legacy add-ons." Firefox can never be upgraded past v56 or they no longer function.
I went over two years without screwing up, but just now I accidentally "upgraded" v56 to 70-whatever and killed my legacy Firefox setup. CRAP. Well I downloaded Firefox v56 setup, re-installed, and it looks like my plugins/setup are back to normal and working again. But now when I click the Firefox "home" button that points to,
https://mail.google.com
I get a "Corrupted Content Error" page.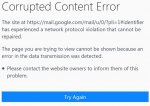 WTF?!? I can't load Gmail anymore. If I do a <ctrl-F5> I can get Gmail to load. Close the tab, hit "home" and error message again. <ctrl-F5> and Gmail loads.
I cleared the cache from tools|options|Privacy & Security|"clear now" button under Cached Web Content and Offline content. I even deleted all Gmail cookies. Still getting error. So I did this a couple times: Reboot computer. Launch Firefox. Delete cache & gmail cookies. Pressed "home" button, get error page, <CTRL-F5>, Gmail loads. Close tab. Close Firefox. Then "Rinse & Repeat" a few more times and now it looks like Gmail loads normally again. It does seem slower more laggy than normal though.
But Thank god it finally works.
Googled a bit and one suggestion was the error is caused when Firefox is downgraded. I just downgraded so that makes sense. Another suggestion mentioned it could be a problem with "registered service workers." WTF are "registered service workers." Never heard of those.
After a bit of googleing: my shaky understanding of registered service workers (RSW) is that they are some type of "script" or "background process" that happens when the browser is open even if no tabs are open on to the RSW sites?!?
So I also found out I can open a tab "about:serviceworkers" to get a list of Registered Service Workers.
I currently have 6:
Origin:
https://developers.google.com
Origin:
https://www.youtube.com
Origin:
https://mail.google.com
Origin:
https://mail.google.com
Origin:
https://www.walmart.com
Origin:
https://www.reddit.com
Under each is an "Update" button and a "Unregister" button.
Questions:
1) Do sites open/launch/spawn these RSW after you go to a site's page then remove them when not needed?
2) Does Firefox remove the RSW after x number of minutes, hours, days, never, after site tab is closed?
3) What does the "update" button do? Does "Unregister" button remove them, but they reload in you go back to site page?
4) Is it OK to "Unregister" the RSW and the sites will just re-install or refresh them?
5) If I "Unregister" will the site lose any/all settings I have developed while accessing the site. EX: I lose all my "watched videos" on YouTube, etc.
6) Any other info or questions I should ask or know about?
Edit: I just went to rei.com, target.com and barnesandnoble.com and now I have: Origin:
https://www.target.com
as another RSW. So not all sites have them?
Last edited: